Bar Mitzvah & Bat Mitzvah Drumming Events
Celebrate the special Bar Mitzvah or Bat Mitzvah time in your child's life with a high energy drumming event. There are three ways that you can use us. Pick as many as you like.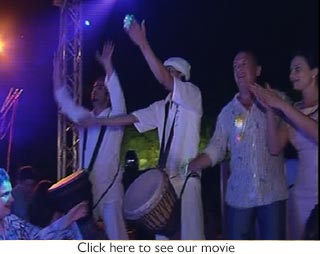 Everyone plays
We give every one of your guests a drum or percussion instrument and within a matter of minutes we turn them into a funky drum and rhythm band.
Whether you have 50 or 500 guests at your Bar Mitzvah, we will whisk the instruments in an out of the room, giving everybody a high energy surprise.
No skills are needed and this 20-30 minute session is light hearted and fun.
The session is usually slotted in before or after dessert!
Whenever it happens, it will bring people together, raise their energy and create a wow factor for your party.
"The drumming went down brilliantly with the kids, but we think the
adults enjoyed it even more !! "
Kids Play

While the adults enjoy their main course in style, we take the kids off into the reception area -or even part of the main room- and teach them how to play the different drum and percussion instruments, turning them into a mini percussion troupe.

If they are up for it, we even can coach them to do a small drumming performance for the adults afterwards.
"The drumming went down a storm. The kids adored it -and it totally delivered what we wanted- to keep them occupied !"
We play
Invite two or three of our live drummers to play along to your Bar Mitzvah DJ and band.
We will mingle with your guests on the dancefloor, energise their dancing and get them into the party spirit.
We can also provide a fabulous drum welcome for the Bar Mitzvah boy or Bat Mitzvah girl as they enter the party !
"It was great to have you there for the whole evening. We wanted a party, cabaret type atmosphere and we really got one. "
Call 0208 960 8214 or 07956 573 470 or email us to find out more.