Teambuilding, Conferences, Away-Days, Leadership, Product Launches
JooDoo Drums is a subsidiary of The Lotus Exchange one of the pioneers of corporate drumming events in the UK.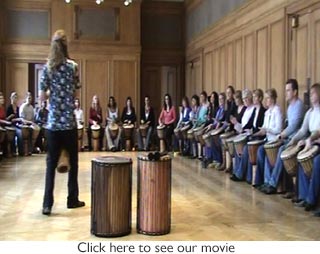 Over the last nine years we have run drumming events at team days, product launches, conferences and away days for a host of companies including:
Aviva
Barclays
Flight Centre
BBC
The SG Group
BP
Hewlett Packard
Allen & Overy
Dept for Education & Skills
The Law Society
BDO Stoy Hayward
Sessions last anywhere from 15 minutes to a whole day and groups can be as small as 5 people or as large as 1000.
What happens?
Delegates are invited into a circle of African Djembe drums.
After a humorous warm up we facilitate simple drum rhythms that soon become musical. Delegates learn to rumble, play call-and-response patterns, and team-up to play interlocking rhythms. They get to identify and applaud the different sounds and dynamics of the rhythm orchestra, and they soon recognise themselves to be an essential part of the band. No skills are needed, no one is made to feel embarrassed or put on the spot.

Looking at their faces you'll see that mainly they're having fun, releasing some stress, and achieving something new as a team. We facilitate with style and humour, generating a party atmosphere, with some energetic learning along the way. Above all the session breaks down barriers and gives delegates a wow experience that they will share for days and weeks to come.
JooDoo Drums and The Lotus Exchange retain the same personnel and deliver the same high standard of professional drum event.
See what some of our satisfied clients have to say:
"An entertaining, energising and truly memorable event which encouraged a really strong feelgood atmosphere within the team"
David Yu, Chief Executive, Betfair
We wanted to get our event off to a flying start and create a memorable buzz. The drumming circle certainly did that and is still a topic of conversation nearly three months later….with some impromptu African Chants still reverberating around the office to this day. "
Howard Hall, DTP Group
"The drumming organised by JooDoo Drums was perfect. Everyone had a great time and it enabled us to combine our efforts in a truly creative and collaborative way. "
Steve Lewis, Commercial Manager, BBC
"Joodoo Drums put the apprehensive group of lawyers immediately at ease and even the most sceptical were laughing and drumming within minutes."
Phillippa Wilkie, Allen & Overy LLP
Please call us on 020 8960 8214 or 07956 573 470 to discuss your corporate teambuilding requirements.Or please email us here info@joodoodrums.co.uk