Celebrations, Parties & Charity Events
Whatever kind of party you are organising- be it a wedding, a birthday party or a charity event- live drumming will provide an unforgettable WOW factor for your guests.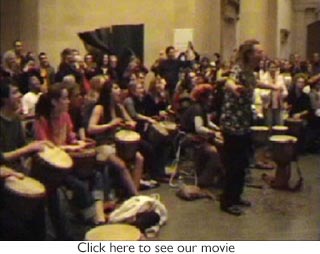 We can offer an interactive drumming session where every guest receives a drum or percussion instrument. In a matter of minutes we turn them into a funky drum band. No skills are needed and the session is conducted with a lighthearted, playful approach.
We have run drumming sessions in museums, art galleries, nightclubs, sporting events, charity functions, birthday and anniversary parties as well as outdoors in parks and public gardens.
"The best thing I did for my 40th birthday was invite The JooDoo drummers to entertain my guests and get them dancing".
"Just a note to thank you so much for the wonderful spirit you
injected into our party. It really made a great Simcha even more
special."
Children's Parties
Joodoo Drums are perfect for kids parties of ages 5 and older. Every child will get to play a drum and try out several different world percussion instruments.
We'll play games, teach simple rhythms, sing songs, have a funky dance contest and above all - let the kids truly express themselves and have fun
"Every child had the opportunity to shine. I saw my sons dance in a way that I had never done before "
"I would recommend this as a party with a difference and will be passing the details on to the headteacher at my kids' school"
Call 020 8960 8214 or 07956 573 470 to speak to us, or email us to find out more.